On Bonfire night, we made 300 desserts for a function being held in Llandovery Rugby Club which was attended by Prince Charles. We were asked to make a dessert which had a modern twist on Apple Pie.
Sian came up with the idea of an apple, baked in Penderyn whisky caramel and then filled with Penderyn Whisky soaked raisins. This was served on a shortbread biscuit with a cinnamon cookie stick placed in the top of the apple, a chocolate leaf decoration and served with a caramel coated marzipan apple.
The dessert was designed to resemble a Toffee Apple.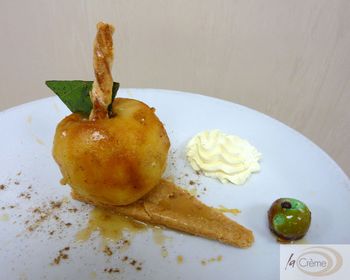 The feedback we received, was that "the dessert went down a storm".
If you are hosting a function and are looking for a supplier to make individual bespoke desserts then give us a call 01639 813166 or send us an email Sian@lacremepatisserie.co.uk.
We can supply fresh desserts, delivered on the day of the function for quantities of 500+.