Congratulations - your getting married.
I have put together a list of the most popular questions and answers that I am frequently asked about my wedding cakes for your information.

1. How much do they cost?
Nine times out of ten, this is the first question I am asked. The answer is always that it depends on the design that has been chosen.
The basic formula I use for costing a wedding cake is based on £100 per tier for a plain iced cake with an extra charge for decoration depending on the complexity and the time taken to make it. Using this formula the average price I charged for a 3 tier wedding cake in 2009 was in the range of £400 to £450.
However many brides choose to have a plain iced cake and decorate with fresh flowers which costs closer to £300 and similarly a number of brides choose large expensive cakes wrapped with chocolate which cost £700+.
I like to think that we can supply the cake of your dreams to match your budget.

2. Do you charge for delivery and set up?
We make an extra charge for delivery and set up at your wedding venue depending on the distance travelled. We deliver cakes all across South Wales from St.Pierre in Chepstow, to the Celtic Manor in Newport, St.Davids Hotel & Spa in Cardiff, Fairyhill in the Gower, Morgans Hotel in Swansea, The Towers Hotel in Neath Port Talbot, The Atlantic Hotel in Portcawl, St.Marys Hotel in Bridgend, Slebach Park near Haverfordwest to Peterstone Court near Brecon.
It is definitely the most stressful part of the job because of the fragile nature of the cakes. On average we charge between £30 to £50 for this service. You can however choose to collect the cake the day before the wedding at no cost.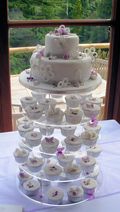 What price are your cup cakes?
Cup cakes are very popular at the moment and come is all different shapes and sizes. More often brides will chose a small top tier as an accompaniment to the cup cake tower so that there is something to cut.
Prices range from £2.50 upwards for cup cakes and a small top tier will cost around £80.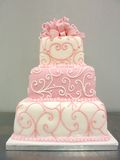 Do you charge for a consultation?
The answer is No.
We are happy to meet with you and discuss your cake requirements. Some brides have fixed ideas of how they want their cake to look and they know what flavours they want.
Other brides are looking for inspiration and we have lots of wedding brochures and magazines you can look through for ideas.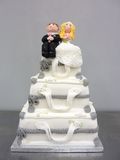 What flavours can you offer?
We can bake any flavour of cake you desire.
By far the most popular cake at the moment is Chocolate.
However we can make anything from Fruit Cake, to Lemon, Ginger, Carrot, Madeira Sponge etc.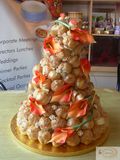 Can we make a Croquembouche?
Answer is Yes.
Most people choose to have a dummy croquembouche as a centre piece and then have profiteroles ready in the kitchen for servings as dessert.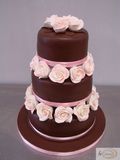 How soon in advance should we book the cake maker?

We are currently taking bookings for 2011. You will find that most of the popular summer and bank holiday dates will be booked up to 12 months in advance.
We ask for a £50 non refundable deposit to secure the wedding date. We only have a limited capacity and rarely will we make more than one wedding cake per day.
By paying the deposit you have secured the date and then you can take your time choosing the actual design.

Do you make Wedding Favours?
We make a lovely range of wedding favours including heart shaped welsh cakes, chocolate truffles and chocolate lollipops.
We also make Welsh cake canapes for your guests to munch on whilst at the church or waiting for the photos to be taken.

Do you make Wedding Desserts?
We supply wedding desserts to most of the wedding venues across South Wales including Margam Orangery, King Arthur Hotel in Reynoldston, The Atlantic in Porthcawl and The Towers in Swansea, Neath, Port Talbot.
If you would like us to make a special dessert to compliment the wedding cake then please speak to your wedding coordinator.
Do you do Wedding Catering?
We have catered for a number of Wedding breakfasts and would be happy to discuss your requirements. We also cater private parties with our contemporary and modern menus. Send us an email if you would like to see some sample menus.
Click on the following link if you would like to download a pdf brochure including prices of a selection of our cakes from 2009.
WARNING - THIS IS A LARGE FILE AND WILL TAKE A WHILE TO DOWNLOAD
Download Wedding Cakes by La Creme Patisserie
If you would like any further information or would like to book a Wedding Consultation either telephone us on 01639 813166 or email Sian@lacremepatisserie.co.uk