Last Saturday night we catered an engagement party at Neath RugbyGround for 160 guests. As it happens Neath won the league on Saturday afternoon and the clubhouse was "jumping" by the time we arrive. Everybody was in a party mood and the engagement party was went down a storm.
We supplied a range of canapes both savoury and sweet.
The full menu was as follows :
Ham, Fig & Blue Cheese Brushetta,
Smoked Salmon & Chive Brushetta,
Goats Cheese Quiche,
Mozzerella, Tomato & Basil Skewers
Chicken Caesar Cups
Lamb Koftas with mint dip
Chicken skewers with BBQ Dip
Chinese Chicken Skewers with Hoisin Dip
Mini Cheeseburgers
Vegetable spring rolls & sweet chilli dip
Onion Bhajias & raita dip
Samosas & Mango dip
For dessert canapes we supplied a tower of our mini dessert cups, with flavours including,
Chocolate & Amaretto Torte
Raspberry Bavarois
Lemon Cheesecake
Strawberry Cheesecake
& Tiramisu.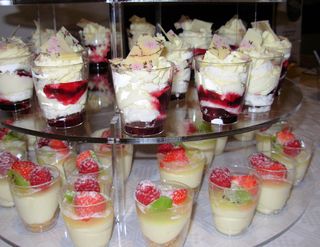 Neath Rugby clubhouse is available to cater all types of functions with seating for 180 guests. Ask to speak to Colin on 07795638186 for more information.
This morning we had a lovely card from Terri & Aaron who were the engaged couple to say
"Thanks for all our hard work. All the guests were very impressed with the food and we had lots of lovely compliments"
If you are having a party and are interested in our canape range then please send us an email on Sian@lacremepatisserie.co.uk or telephone Sian on 01639 813166