When you have over 300 people attending your Asian Wedding celebration at the Brangwyn Hall in Swansea you need a lot of cake.
So why not have a cake in the shape of a car, and a tower of cupcakes, and large red heart shaped cake decorated with diamonds, and a cake decorated with a beautiful floral design, and a fairy castle cake with lights, and an illuminated water fountain and a beautiful white white cake with a diamond brooch.
They all looked amazing!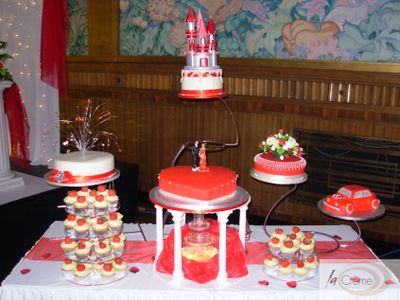 This particular Wedding took an enormous amount of planning and preparation but it was worth every minute. Every small detail was worked through to ensure that the cakes were exactly how the bride wished they would be.
Sanah gave Sian a very special kiss to thank her for all her hard work.