When the British Baker magazine decided to print a Spring 08 supplement advertising traditional and regional favourites from the UK, Sian was delighted to be ask to give a welsh perspective.
Under the La Creme brand, Sian produces handmade cakes, combining traditional fare with innovative recipes. When it come to the former, there can be no more traditional food produced in Wales then the Welsh cake.
"Welsh cakes are produced by every bakery, market, outdoor fair and supermarket in Wales" says Sian and they were the top seller at Harrods' Best of British promotion.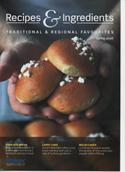 Sian came to prominance with the British Baker magazine when she came runner up at the British Bakery awards last September in the Patissier of the Year category.
Sian's stunning award entry was a caramel & hazelnut mousse gateau, with layers of sponge, mousse and hazelnut cream and a spun sugar top.
Photos of the cake and the award evening can be seen on our website.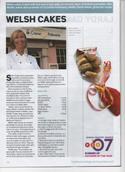 Sians recipe for Welsh cakes can be viewed by double clicking the photo to the left.
Welshcakes are part of the range of baked goods that La Creme will be advertising for sale on our internet site in the near future.
Other products in the range include Millionaires shortbread, Coffee & Walnut Cake, Carrot Cake, Blueberry & Lime drizzle sponge and chocolate brownies.