We seem to be having a large amount of enquires recently to cater breakfast meetings. Fresh danish pastries, pain au chocolate, muffins, croissants, fruit salad, cereals and hot fresh coffee and tea.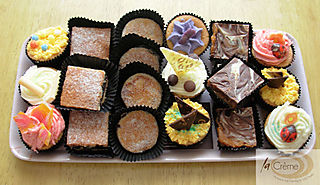 This week we were asked to supply a breakfast patisserie tray with mini sweet items as a gift for a customer of JCP Solicitors in Swansea. For those who haven't dealt with JCP Solicitors and are looking for more inforamtion, check out their website. As a company JCP do alot of work in the community supporting various events in and around the Swansea area, including sponsoring the Swansea Bay Woman of the Year Awards.
It is difficult sometimes to get the message across to customers that we are more than just a cake company. We are also a catering company and we have a range of innovative catering menus for all events such as business breakfasts, directors lunches, canapes for corporate events, press launches or drinks parties.
If you are a business in South Wales and you are looking for something special and different, then give Sian a ring on 01639 638574 or email Sian@lacremepatisserie.co.uk with your enquiry.
Prices for mini patisserie like the ones shown above, start from £20 and are proving to be a lovely gift item.