It is chocolate week this week so what better way to celebrate than to bake up a fantastic chocolate cake recipe. This particular recipe for Black Forest gateau has the added bonus of being gluten free - so it is a definate hit with coeliac chocoholics looking for that indulgent hit.
To download the recipe with cooking instructions follow the attached link
Download gluten_free_black_forest_gateau.doc
Gluten Free Black Forest Gateau  -  La Creme style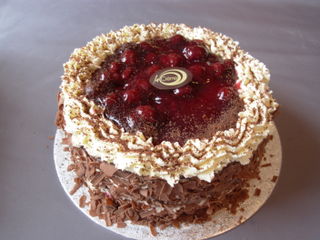 Speak to Sian on 01639 638574 if you would like a cake baked especially for your dietary requirements. Sian has an extensive library of recipes and she is able to make individual cakes to order.